The following article contains minor spoilers for the RWBY/Justice League crossover comic issues #6-#10.
The still-ongoing comic book crossover between RWBY and the Justice League has given fans of the properties some interesting scenarios, chuckle-worthy goofs, never-before-seen interactions and some lighthearted fun. The comic books, set before Volume 3 but not really adhering to canon in general, are a great way to spend an afternoon if you're not averse to the genre. Unfortunately, that's not the case for everyone, especially if they like Weiss.
On Twitter, because of course it's Twitter, there has been a noticeable backlash against the last chapter of the comic book, released on May 25th. Even more noticeable was the backlash to the backlash, which sparked some nice drama, or rather, some Weiss drama. But where did this all come from?
The RWBY/Justice League comic book series, which began on the 30th of March, has seen quite a lot of development of different relationships between its large cast of characters. Considering that there hasn't been much conflict between any of the characters lasting for more than a few pages, most of the relationships portrayed are positive, sweet and friendly. Heck, we're even getting a lot of Bumbleby (Blake and Yang) moments with strong romantic undertones. The rest of the cast do get their moments together as well, like how awkward Superman acts around Weiss, how Weiss and Bruce Wayne show quite a lot of chemistry together, how Diana gladly takes Weiss over anyone else with her adventure or even how Weiss and Victor Stone have… Oh, I think there's a pattern here.
It's no secret that between eleven teenagers things might get… romantic. And it's also not a secret that the comic series plays that part up quite a lot, potentially to garner interest in the shipper demographic that would likely pass the comic up. But it is quite clear that Weiss tends to get a lot of attention in the comics, seemingly more than any other member of team RWBY, especially Ruby or Blake. This has caught the ire of some Weiss fans, particularly those with strong opinions on her ships, like fans of White Rose. In the defense of the comic, the way Justice League characters act around Weiss does make sense. Clark isn't awkward and shy around her because he's secretly crushing on her, quite the contrary. Clark starts acting weird after learning that Weiss is a Schnee, while he was a worker who escaped a Dust mining contract, likely created by the Schnee Dust Company. Bruce is seemingly into Weiss, but that's reasonable as Weiss is a rare exception of an understanding, accepting and just member of the upper class, which he too belongs to. Diana admits herself she doesn't understand flirting, so her moves on Weiss aren't really that meaningful – for example she kisses Weiss's hand because a few pages earlier Bruce does the same out of courtesy to Diana and she's simply imitating him.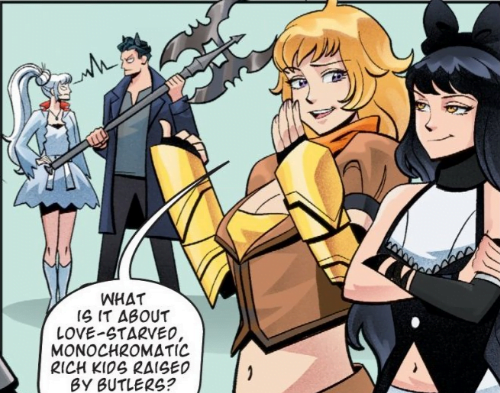 And finally Victor Stone, better known as Cyborg, the originator of today's drama. Even in his introductory issue #6, he gets along with Weiss great – she admires his intellect and determination while he is grateful for her glyphs helping him survive without Dust. In the very same page Diana even lampshades the relationship between them, asking if they're flirting or not. So how come when issue #10 shows Weiss resting her head on Cyborg's shoulder people suddenly jump at arms complaining how Weiss is being treated? Well, there might be two main causes.
The first is pretty simple. It does come out of nowhere if you read it week by week. A month of real-time has passed between issues #6 and #10, and Cyborg and Weiss don't really interact much, mostly because they don't have time to. Issue #7 is about Clark, Yang, Ruby and Arthur. Issue #8 is a battle sequence and issue #9 is a villain reveal with very little non-expository interaction happening. There are two pages in Issue #8 showing the characters resting, with almost all appearing in pairs of characters with pre-established relationships, like Bumbleby or Clark and Ruby. In it Weiss is with Bruce, not Victor, which makes sense as the two have known each other for longer. Simply put – a month of no interaction led people to forget that Cyborg and Weiss have been together before.
The second is… a bit more personal and less noticeable. Let's talk about shipping. There's a thing in shipping I like to call 'Scurvy'. That's the sudden lack of any new ship development or material in canon media. When you see fans of a ship complaining that the authors "forgot" a ship – that's shipping Scurvy. And White Rose (Weiss and Ruby), the most popular Weiss ship, has been suffering from Scurvy since Volume 6. While we've seen more Weiss and Ruby being a cute couple together in Volume 6 more than in the previous three volumes combined, Volumes 7 and 8 gave practically nothing for the two. That kind of prolonged Scurvy for a ship that big is pretty devastating.
And you know what's worse than having Scurvy on your large ship? Seeing a bigger ship sail right past you, with the crew practically drowning in citrus fruit. That's Bumbleby, which consistently got screentime (and page-time) in every single Volume after 5. This kind of Scurvy envy can lead to fans of White Rose prone to some outbursts, like the ones we've seen on Twitter. And while Scurvy truly can be devastating to fans of a ship, it's not really an excuse to become terrible to each other, raising drama over a non-canon comic book that's ultimately just harmless licensed fanfiction. Especially if the thing that got people riled up was a single out-of-context panel in an issue full of similar relationship-forging moments which the people complaining about it likely haven't even read.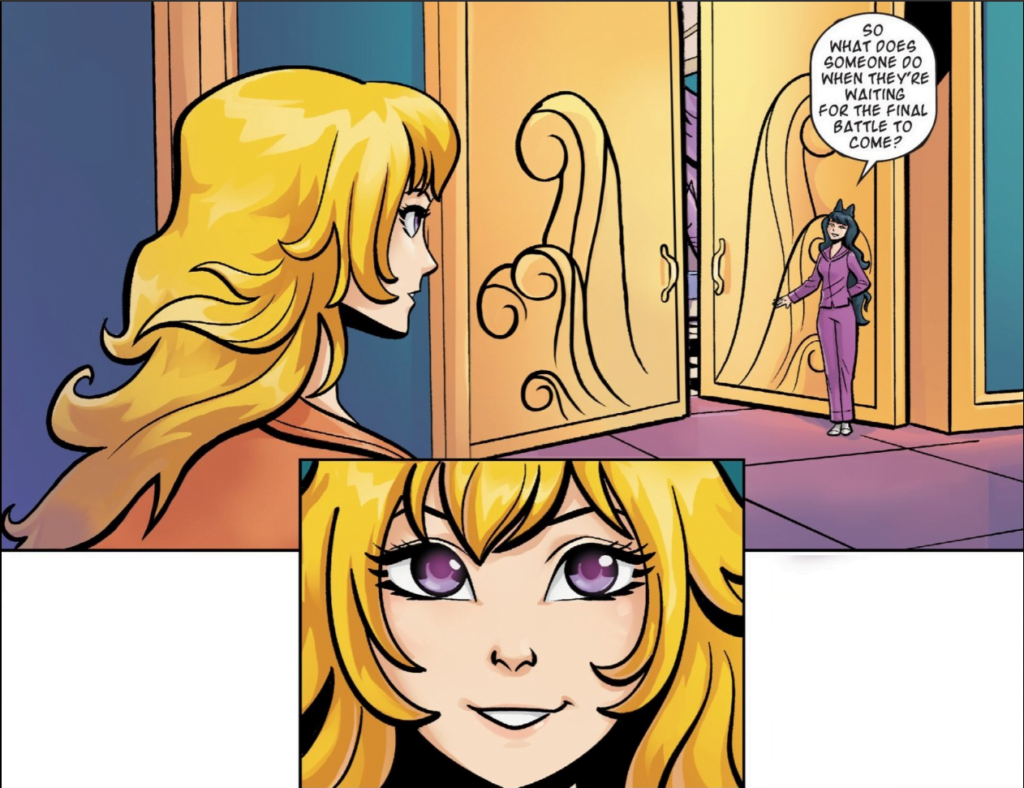 Let's not over exaggerate, insult other or pretend to be insulted. Whatever relationships the comic portrays has no bearing on us or the show in general. Let's all just be Weiss to each other. I mean, nice. Whatever.